University Of Haripur
The University of Haripur starts taking admission applications for the BS Programs session in 2024-2025.
BS Degree Programs, Fall Semester
BS Agriculture sciences
BS Geology
BS accounting and finance
BS environmental sciences
BS medical lab technology
Education B.Ed
BS Forestry and wildlife management
BS Microbiology
BS Economics
BS Software engineering
BS Mathematics
BS Psychology
BS Computer science
BS Business administration BBA
BS Islamic and religious study
Eligibility criteria for the BS Program:
Eligibility for BS programs is FA, FSC, or equivalent.
The last date for Online Application (BS/BS 5th Semester/Diploma) is February 9, 2024, till 4:00 PM
The entry test will be held on February 11, 2024
Admission applications must be received by the head office before the due date; applications received after the last date will not be entertained. The university also offers scholarships and financial assistance to needy and talented students.
Apply online or submit application by hand for the entry or admission test, as per the prescribed procedure or as determined by the University
Pay the required processing fee (non-refundable and non-adjustable) along with admission form
Submit all the required documents mentioned on the prescribed form
Obtain an entry test (Admission Test) card
Provide an equivalency certificate in the case of a certificate or degree issued by a non-Pakistani board or university.
Qualify the Entry/Admission Test
Meet the minimum eligibility requirements for the chosen degree program or discipline
Provide an affidavit (as per specimen on Rs. 50 stamp paper duly attested by a Notary Public) ensuring no intention to participate in political activities, including assurance about abstaining from any criminal act (as per the law put into operation by the government).
Follow or observe the University of Haripur's disciplinary rules & regulations.
College of Agriculture University of Sargodha
University Of Haripur BS Fee Structure
Program Name
1st Semester
(Fee in Pak Rs.)
2nd and onward Semesters
(Fee in Pak Rs.)
BBA
43632
38308
BS Tourism and Hospitality Management
44632
39368
Bs Banking & Finance
44632
39368
BS Accounting & Finance
43632
38368
BS Public Administration & Governance
43632
38368
BS Industrial Management
43632
38368
BS Psychology (Hons)
43632
38368
BS Urdu
34768
29504
BS English
40513
35249
BS Arabic
34768
29504
BS History
34768
29504
BS Political Science
34768
29504
BS Pak Study
34768
29504
BS International Relations
34768
29504
BS Sociology
34768
29504
BS Economics
34768
29504
B.Ed Elementary ( Hons)
34768
29504
B.Ed. (2.5 years)
34768
29504
B.Ed. (1.5 years)
34768
29504
BS Islamic and Religious Studies
34768
29504
BS Computer Science
53917
48653
BS Software Engineering
53917
48653
BS Artificial Intelligence
53917
48653
BS Telecom & Networking
53917
48653
BS Data Science
53917
48653
BS Physics
43193
37929
BS Maths
43193
37929
BS Statistic
43193
37929
BS Botany
43120
37857
BS Zoology
43120
37857
BS Biochemistry
43120
37857
BS MLT
49730
44467
Doctor of Physical Therapy
64871
59608
BS Anaesthesia
59371
54108
BS Microbiology (Hons)
49730
44467
BS Public Health
50730
45467
BS Human Nutrition and Dietetics
50730
45467
BS Health and Physical Education
34695
29431
BS Agriculture
43120
37857
Bs Agribusiness
43120
37857
BS Climate Change
43120
37857
BS Geology
50214
44951
BS Engineering Geology
50214
44951
BS Environmental Sciences
43120
37857
BS Remote Sensing and GIS
43120
37857
BS Disaster Management
43120
37857
BS Food Science and Technology
48910
43647
BS Chemistry
49730
44467
BS Forestry & Wildlife Management
50120
44857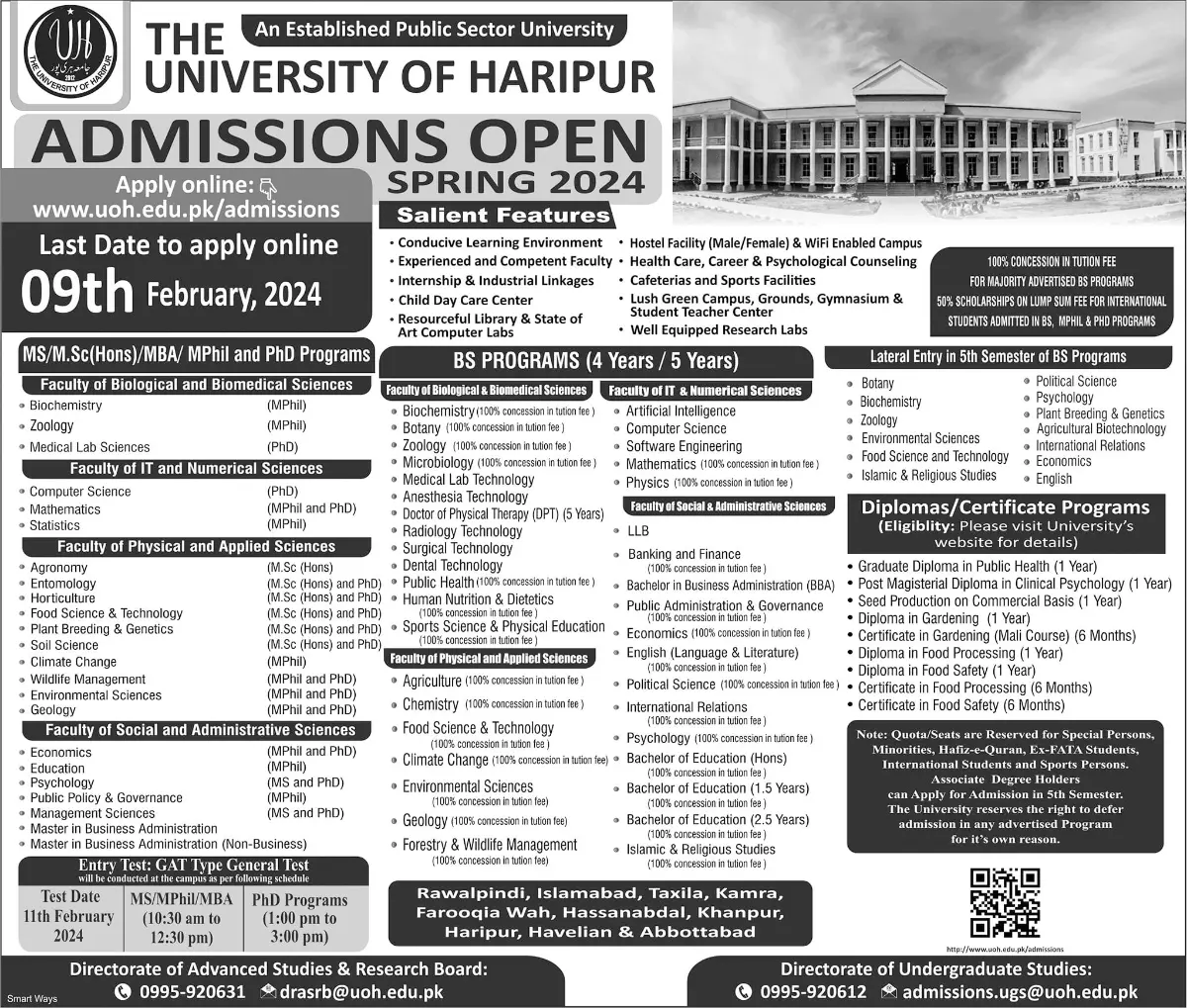 All Degree Courses UOH Fee structure
Sr#
Subject
Fee in Rs.
1
B.S Semester Exam Fee (Per student per semester of Affiliated Institutes)
2660/-
2
Registration fees for all programs Affiliated Colleges
2270/-
3
BA/B.Sc./B.Com. (Part-l &ll) Exam Fee (Regular)
2660/-
4
BA Part-l Exam Fee (Private)
6920/-
5
Practical Examination (Per Subject)
260/-
6
BA/B.Sc./B.Com. (Supplementary Exam): One Paper
1940/-
7
BA/B.Sc. (Supplementary Exam) two Paper
2530/-
8
MA/M.Sc./M.Com. Exam (one Paper)
2940/-
9
MA/M.Sc./M.Com Exam (two Paper)
3660/-
10
B.Com. Exam (three and four Papers)
2660/-
11
M.Com Exam (three Papers)
5130/-
12
MA/M.Sc./M.Com. Part-l &ll (Regular Students Exam Fee)
3400/-
13
MA Part-l and Exam Fee (Private Students)
7990/-
14
Detailed Marks Certificate Fee
940/-
15
Transcript Fee (for all students)
940/-
16
Duplicate Detailed Marks Certificate Fee
1330/-
17
Duplicate Transcript Fee (for all students)
1330/-
18
Provisional Certificate Fee (normal)
1000/-
19
Correction of Name Fee
1330/-
20
Change of Name Fee
1330/-
21
Correction Fee (DMC, Prov. Cert., Mig. Certificate) Normal
800/-
22
Correction of Degree( Normal)
2660/-
23
Correction of Degree( Urgent)
3700/-
24
Degree Fee (Normal)
3730/-
25
Degree Fee (Urgent)
7330/-
26
Degree Fee (Most Urgent)
9990/-
27
Duplicate Degree Fee (Normal)
10650/-
28
Duplicate Degree Fee (Urgent)
15972/-
29
Duplicate Degree Fee (Most Urgent)
19970/-
30
Change of Subject Fee
1600/-
31
Change of centre
2180/-
32
Duplicate Roll Number Slip
610/-
33
Verification Fee (per documents)
1070/-
34
Verification Fee (per document) Extra copy of DMC, degree, transcript, or provisional (at the same time)
120/-
35
Re-Checking Fee (per Subject)
940/-
36
Migration Fee (Normal)
1600/-
37
Migration Fee (Urgent)
2930/-
38
Registration Cancellation Fee: Normal
2270/-
39
Gazette Fee
1330/-
40
U.F.M Appeal Fee
1600/-
41
Registration Fee (1st Semester) (For affiliated Colleges)
2270/-
42
Exam fee (Each semester)
2660/-
43
Convocation fee
3030/-
44
Fee for Foreign
Transcript
Provisional certificate
Degree
Verification of documents
12.1 U.S Dollars
12.1 U.S Dollars
36.3 U.S. dollars
12.1U.S Dollars