University of Lahore UOL Coronavirus Screen Test Laboratory
University of Lahore teaching hospital UOL Lahore organizes corona virus Screen Test Laboratory. The innovative safety level lab that will take screen tests for patients of corona virus and provide test result within 24 hours.
The health department of Punjab already approved UOL corona virus laboratory. According to Express newspaper the laboratory is start working. The highly talented professional faculty is hiring to Run Screening Test Laboratory.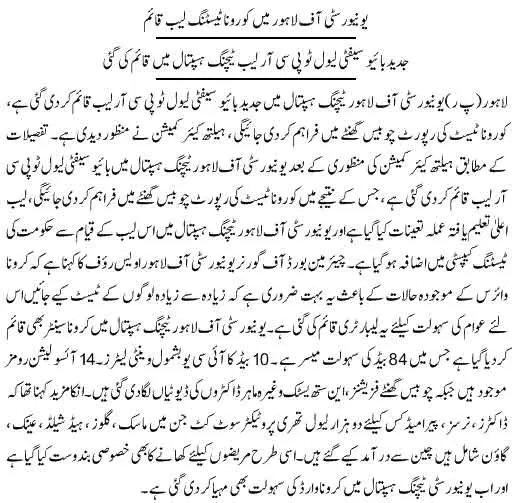 The corona virus testing capacity is increasing in Punjab. The teaching hospital University of Lahore will start working from today. The Screening test Result will be available within 24 hours.
Chairman board of governors university of Lahore awais rauoof said in press conference that in the current bad situation, its necessary to make Screen Test Laboratory in Lahore. In this situation its necessary to take screen test to maximum people.
UOL Teaching hospitals have 84 bed facility and 10 beds ICU with ventilators and 14 isolation rooms. The MBBS Doctors and specialist have been hired to facilitate maximum people.