University of Gujrat Mandi Bahauddin Admissions Fall 2023 Apply Online
University of Gujrat is a well-recognized institute of Pakistan which provide quality of education in undergraduate and graduate degree programs. It has many campuses located in all over Punjab. University's sub campus located in Mandi Bahauddin has announced its admission in fall 2023 in both morning and evening sessions. Details of programs are as follow.
UOG Mandi Bahauddin BS Programs
BS in Computer Science
BS in Mathematics
BS in Physics
Bachelor of Business Administration BBA
Associate degree program in computing Science
Students can also take admission in direct 5th semester in the following degree programs:
BS in Physics
BS in Mathematics
BS in Computer Science
BBA 2 years
How to Apply online
Interested candidates who have completed their 12 years of education can apply through online portal by clicking on the following link:
www.uog.edu.pk
Candidates must have 45% in intermediate to apply for all subjects but 50% marks are required for computing and information technology
After submission of online application students have to submit admission fees in the given bank within the deadline.
Students can receive message on their given mobile number after the submission of online application and admission fees.
Merit list of selected candidates will be displayed on university website
Selected students have to visit campus of university with all required documents and must submit their fees before the display of second merit list
Admission fees can be submitted in any branch of Bank of Punjab and copy of challan form will be submitted in the campus office.
University also offer financial and merit base scholarships to students from 2nd semester onwards.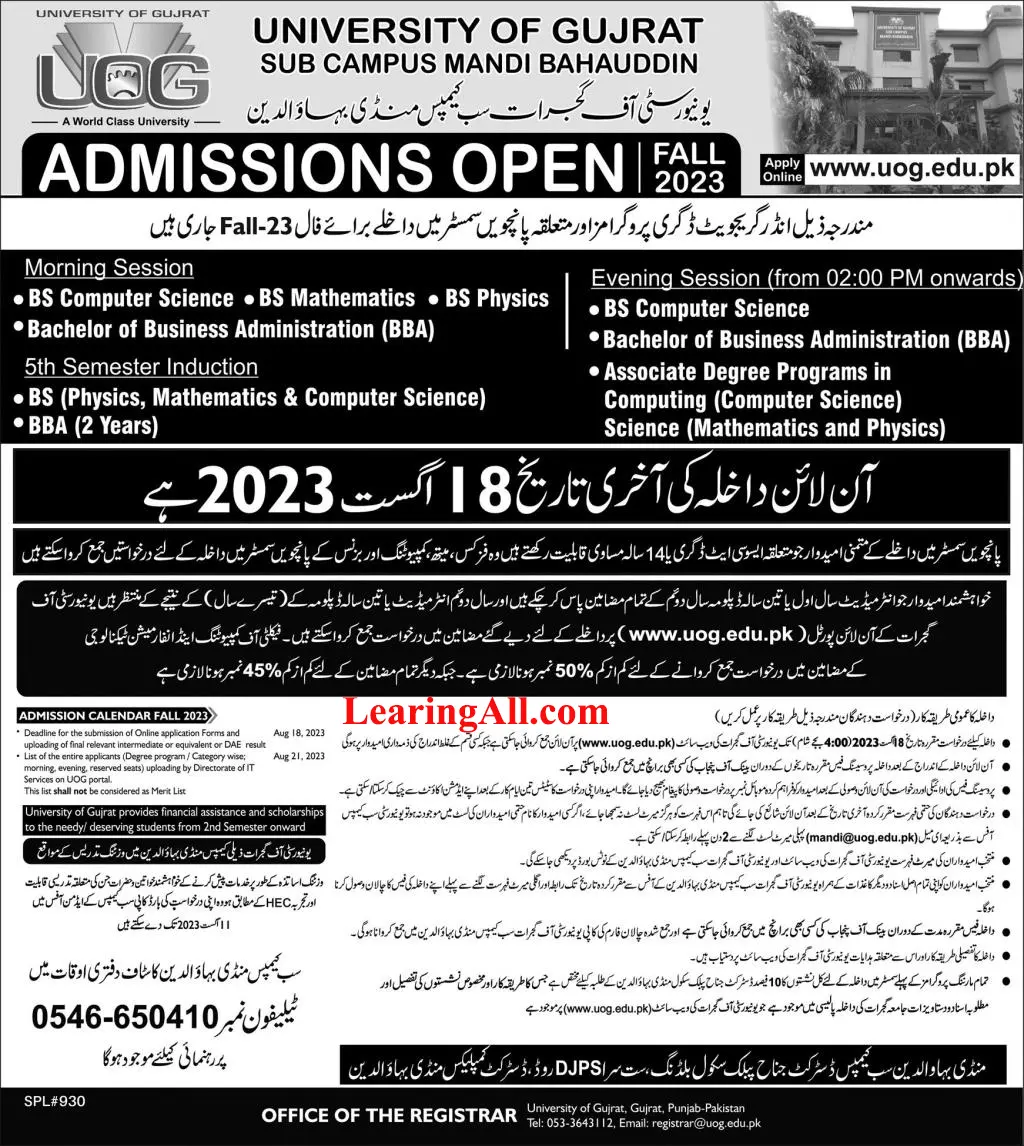 UOG Admission Schedule for fall 2023
| | |
| --- | --- |
| Deadline for submission of online application | 18 August 2023 |
| List of entire applicants on university portal (this list is not a merit list) | 21 August 2023 |
Online Admission Open
July 09, 2023
Deadline for the submission of Online Application Forms and uploading of final relevant intermediate or equivalent or DAE result
August 18, 2023
List of the entire applicants (Degree program / Category wise; morning, evening, reserve seats) uploading by Directorate of IT Services on UOG portal.
This list Shall Not be considered as Merit List.
August 21, 2023
IMPORTANT NOTE
The applicant shall be intimated through text massage by the Directorate of IT and email by the DAC to all applicants of Sports and Co-Curricular reserve seats to bring the application and relevant documents at the day of trial. Otherwise; shall not be allowed to appear in trials.
August 22, 2023
Submission of all the details of reserved seat applicants to the Convener of the respective committees by DAC.
August 24, 2023
UOG Entry Test:
BSc Engineering Technology Degree Programs at Hafiz Hayat Campus, Al Jazari Block from 10:00 to 11:30 AM
August 24, 2023
Trial for Sports reserve seats at Hafiz Hayat Campus, Sports ground beside UOG main Gate # 01 at 9:00 AM
August 28, 2023
Test for Co-Curricular reserve seats at Hafiz Hayat Campus, Office of the Chairperson Department of Mass Communication & Media, Umer al Khayam Block, Room # 203 at 9:00 AM
August 28, 2023
Medical Examination for the Reserved Seats (Special Person) at Hafiz Hayat Campus, Health Care Center at 11:00 AM
August 28, 2023
Submission of the results for all reserved seat (special person / sports / Co-Curricular activities) by the Conveners of the respected Committees to the DAC
August 30, 2023
Announcement of First Merit List
September 01, 2023
Deadline for Fee submission for first merit list
September 05, 2023
Announcement of Second Merit List
September 06, 2023
Deadline for Fee submission for second merit list
September 11, 2023
Announcement of Third Merit List
September 12, 2023
Deadline for Fee submission of third merit list
September 15, 2023
Last Date to Apply for UOG
Students must complete their online admission procedure before 18 August 2023
University of Gujrat UOG Merit List 2023 1st 2nd 3rd Selection List