Virtual University of Pakistan Free Courses 2023 Apply Online
VU is a well recognised online federal government university of Pakistan which offered online education to all over the Pakistan. Students from far away areas and even living in overseas can enrolled in this university. Numbers of tutors for every subject are teaching thousands of students on daily basis.
Virtual University of Pakistan offered free short courses for candidates who want to learn about IT and other softwares. These courses are long for 4 to 8 weeks.
Virtual University Courses Description
VU announced these four courses for students:
Get connected (4 weeks)
This course gives better understanding of internet, computer, social media skills and digital skills
IT essentials (4 weeks)
It helps to to build a career in IT and gives you opportunity to work with Cisco networking academy which helps you to have command in advance stimulation tools and your trouble shooting skills.
Programming Essentials in C++ (8 weeks)
In this course you will learn the basic programming in C++ language and techniques to use it. This first course, in the series of 2 courses introduces you to the basics then progressively extends your capabilities.
CyberSecurity Essentials (4 weeks)
It helps to develop an understanding of cybercrime, security principles, technologies, and procedures used to defend networks.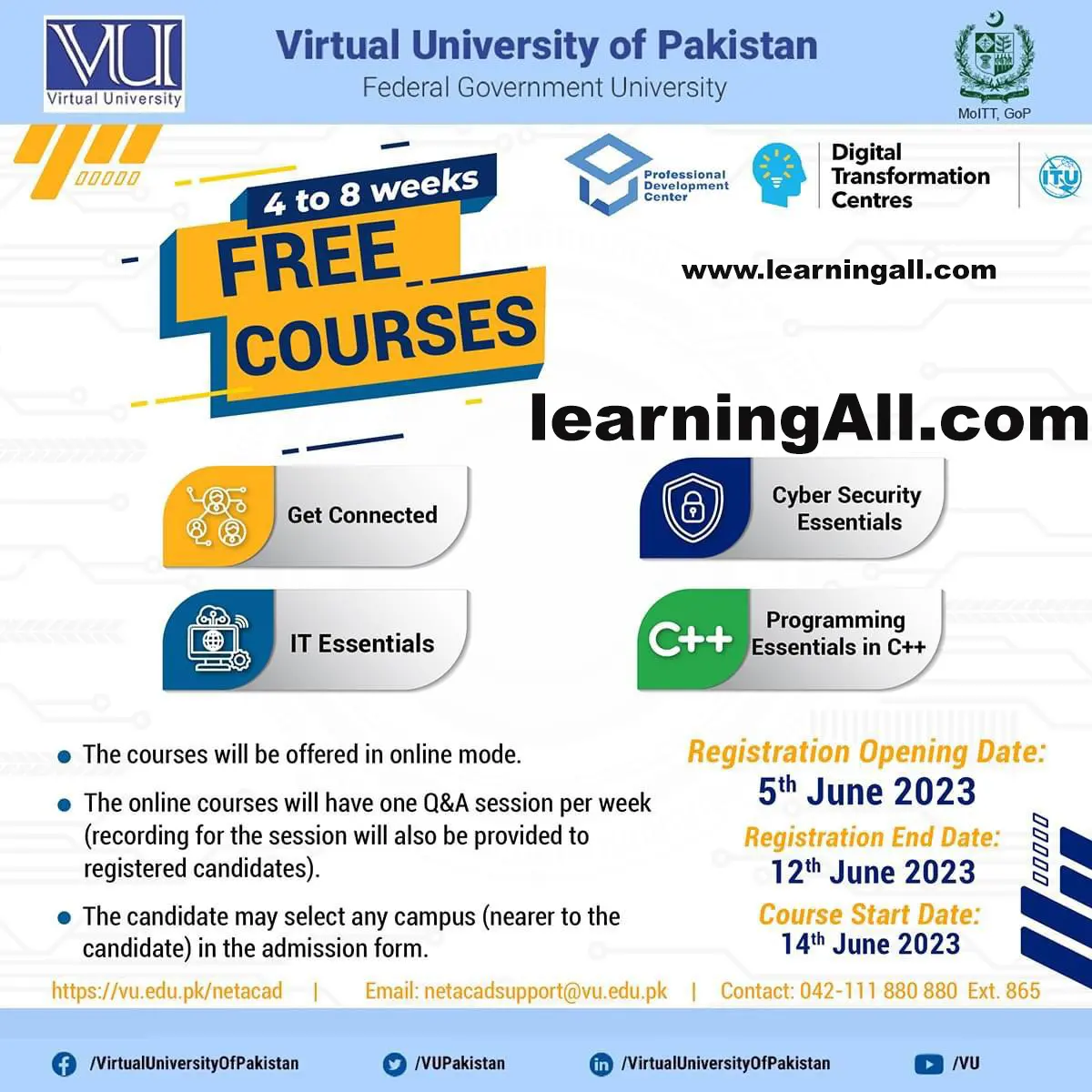 Important instructions:
These courses will be offered in online mode.
Once in every week question and answer session will be conducted.
Recording of that session will be given to only registered candidates.
Students can select any campus which is near to them in the admission form.
Schedule of Registration:
| | |
| --- | --- |
| Registration opened on | 5 June, 2023 |
| Registration will be ended on | 12 June, 2023 |
| Courses will be start on | 14 June, 2023 |
How to Enrolled:
Candidates can get enrolled in these courses by this link: Apply Now
https://www.vu.edu.pk/netacad/Default.aspx#courses
For further queries contact on:
Email: netacadsupport@vu.edu.pk
Contact: 042-111880880 EXT: 865