Chief Minister of Punjab Shahbaz Sharif with Provincial minister for Zakat and Ushar Malik Nadeem Kamran announced Sahib e Nisab Zakat Rozgar Scheme in Punjab. According to this scheme government of Punjab will be distribute 63 Auto rickshaws to the poor people of Punjab cities. It's a wonderful work to help to poor people of Punjab according to this scheme poor people can take benefits from government of Punjab and the department of Zakat and Ushar: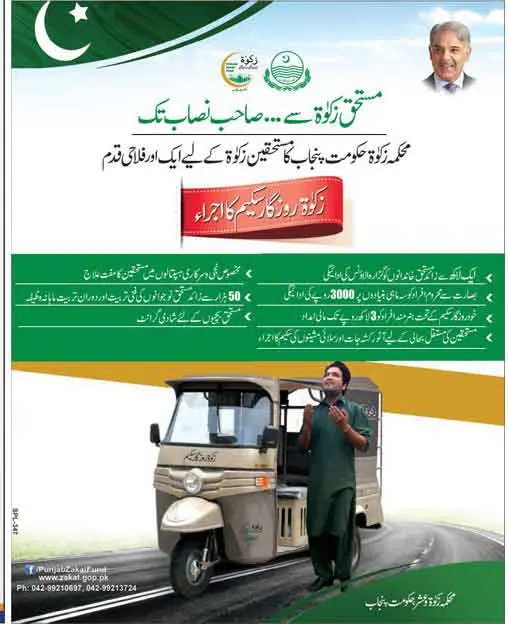 According to Zakat Scheme 2020:
Government will be given 63 Auto Rickshaws to Poor People and cloth stitching machines.
Marriage for Poor People
Technical Poor People can get 300,000 Zakat
Secretary Zakat & Ushr Punjab
Contact Government of Punjab for Zakat Fund:
78 Shadman-II Lahore
Phone :(042) 99263230-32
Fax:    (042) 99263231
Email:  zakat1980@hotmail.com
Administrator Zakat Punjab
2-Court Street Lahore.
Phone: (042) 99210697
Fax:     (042) 99210696
E.mail: azpunjab@gmail.com
zakat.gop.pk