Azad Government of the state Jammu and Kashmir health secretariat requires qualified and experience medical education professional for the position of principal Azad Jammu and Kashmir Medical College Muzaffarabad, Azad Kashmir.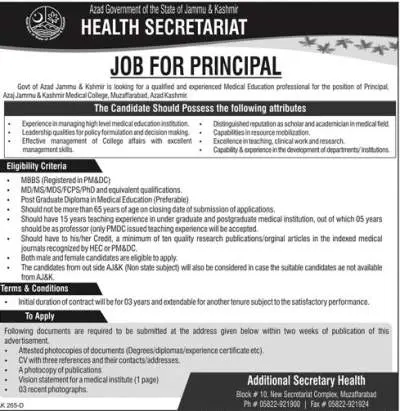 Jobs for Principal
The candidates should possess the following attributes:
Experience in managing high level medical education institution.
Leadership qualities for policy formulation and decision making.
Effective management of college affairs with excellent management skills.
Eligibility criteria:
The applicant must be MBBS registered in PMDC
MD / MS / FCPS / PhD and equivalent qualification.
The applicant must be more than 65 years old on closing date of submission of applications.
The candidate must have 15 years of teaching experience in under graduate and postgraduate medical institute and five years teaching professor experience in any PMDC registered college or university.
Both male and female candidates are encouraged to apply.
The candidates from outside AJ and K non state subject will also be considering in case the suitable candidates are not available from AJK.