Cadet College Humak Islamabad boys and girls open admissions 23rd intake session 2023-2024. the admission application requires for admission in class 6th 7th 8th and 9th to 1st year pre medical, pre engineering, pre computer science class, the admission will be take first come first serve base, And after receiving all admission applications the regular classes will be start from early.
05-June 2023 Admissions Form is uploaded in download section for session 2023 – 2024 03-January-2023 Admissions are open for class 7th , 8th and 9th session 2023 – 2024 02-June-2023 Summer vacations has been extended till June 2023.
Eligibility Criteria for Cadet College Islamabad
All Pakistani Candidates are eligible to apply for admission in Cadet College Islamabad before due date. The admission will be given only on merit base, the college will be take admission test, interview and medical test from all selected candidates for final selection. For entry test the interested candidates may come to college office in day times from morning 9:00 am to 12:00 daily except Sunday and holiday.
The students who wanted to take admission in first year must have 60 percent marks from their matriculation Examination or result awaiting students who have hope certificate are eligible to appear in entry Test.
Selection Process for Cadet College Islamabad
Admission will be given on merit basis after entry test, medical test, intelligence test and final interview. The written test will be taken from following subjects: Urdu, English, and Mathematics.
Benefits to Get Admission in Cadet College Islamabad
Cadet College Humak provides air-condition classes with free admissions and scholarship Scheme for their Students Having 85 Percent Marks.
Entry Test Date for Cadet College Islamabad
The written entry test will be held on daily basis at college campus expect Sunday. The overseas students are exempted from entry test.
Read also:
Cadet College Panjgur Admission 2023 Form Entry Test Result
Admission form and College Prospectus
The admission form and college prospectus available at college campus with the payment of Rs. 2000/- cash or through Courier demand draft Rs. 2500/- with the name of Principal of Cadet College. The admission forms also available at website www.cchisb.edu.pk download online and submit admission application through courier with pay order of Rs. 2500/-.
the candidates also bring admission forms and prospectus though courier Tcs or Leopards courier with payment of Rs. 2500/- DD to Principal Cadet college humak Islamabad. the interested candidates may also download their admission forms though official website of cadet college cchisb.edu.pk for more information the interested candidates may contact to office at number 051-4491542-43 or mobile numbers: 0300-5110398 and 0332-5686311.
How to contact Cadet College Humak
For more information contact to following mobile numbers: 0300-5110398 and 051-4491541-3 and 0332-5686311, 0345-8273707 and email address: cchislamabad@yahoo.co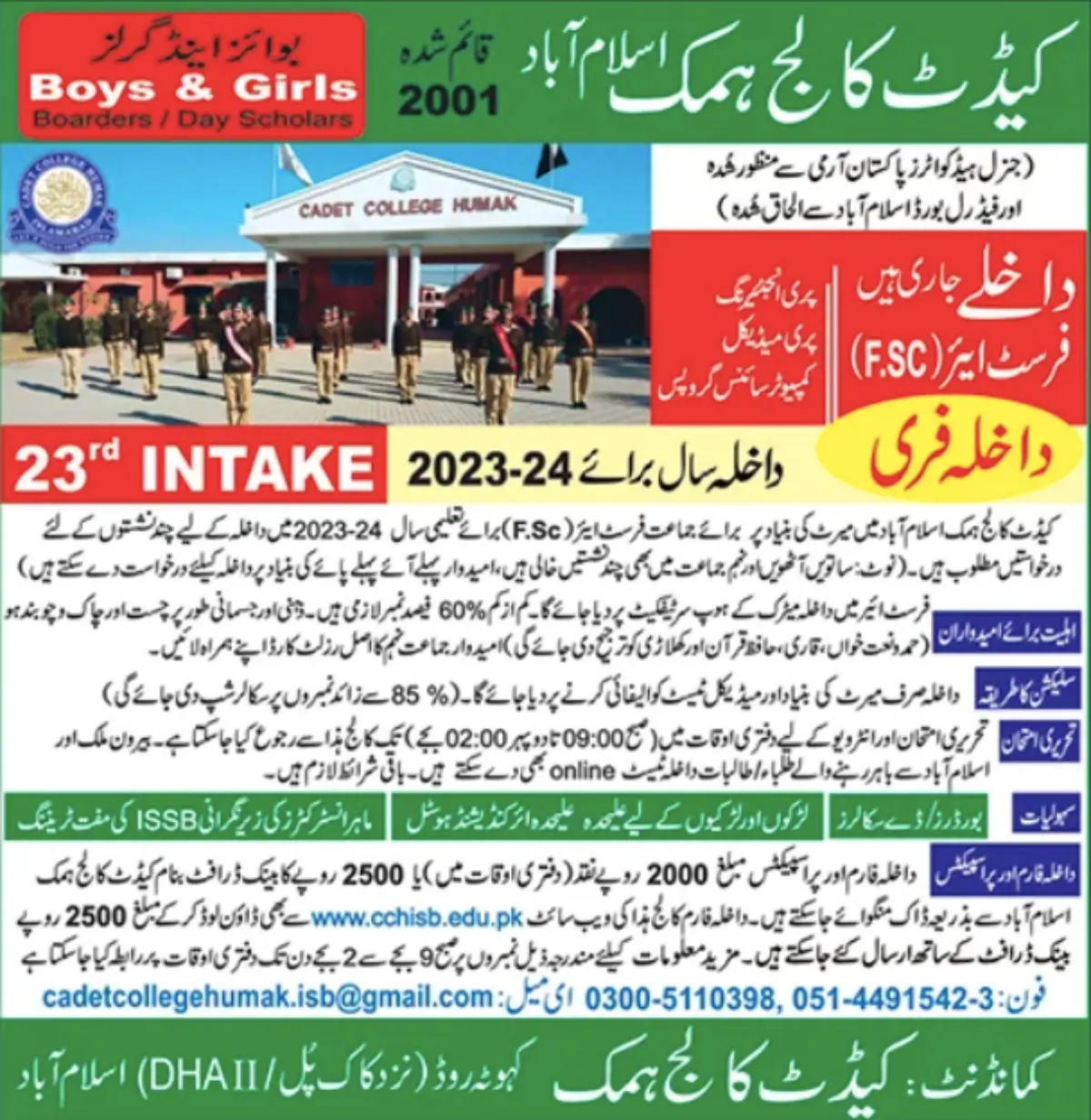 Last Date to Submit Admission Application Form: Open
Admission Entry Test Date: Everyday from date 06 June 2023
Cadet College Spinkai also open admission and entry test schedule for session 2023-2024.
Read also:
Cadet College Spinkai Admission 2023 Entry Test Last Date
Cadet College Humak Islamabad Admissions 2023 admissions in Pakistan, admissions in Islamabad.