Habib Insurance is one of the best and oldest insurance company in Pakistan, the Habib Insurance Company found in year 1942. Habib Insurance Company starts hiring management Trainee Officers. The professional leaders / teachers from Habib Insurance will be provided wonderful training opportunity for Fresh graduates to become future leader in insurance industry.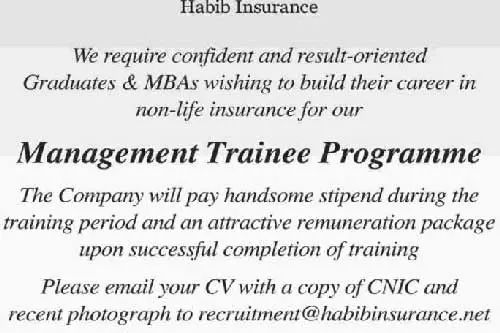 As every company thinks about future so habib insurance company starts Management Trainee Program to control Insurance work in Habib Insurance Company in future.
The successful Trainee will be future leaders in insurance field. The Habib Insurance Company will pay handsome stipend during the training period and an attractive remuneration package upon successful completion of Training period.
Apply Here Also: Zong Graduate Trainee program 2020 Apply Online Eligibility Criteria
It's a opportunity for Graduate and MBA Degree holders to take benefit by Taking Training in Habib Insurance Company.
Read Also: Askari Bank Management Trainee Program 2020 Application Form
The interested and Fresh Graduates or Master MBA Degree holders can submit CV resumes with CNIC copy and recent photographs to following email address.
recruitment@habibinsurance.net
MTO Application must be reached to office before date 19 November 2020