Are you passionate about Pakistan, its economic development and the importance of research and evidence-based policy? Are you looking for an opportunity to work at a policy think-tank led by committed researchers? The Institute of Development and Economic Alternatives (IDEAS), a policy think-tank based in Lahore, is looking for smart and qualified individuals to join the IDEAS team. The current research clusters at the institute include: Fiscal Federalism and Public Finance, Human Development, Political Economy and Social Exclusion and Marginalization. We are looking for interns to work across the various clusters.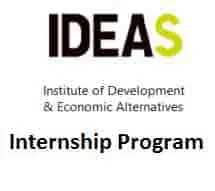 Lahore Based full time Internship Program
Main Responsibilities
Clean existing project datasets;
Analyze data using statistical packages and database tools;
Conduct research, data mining and literature reviews on key topics within the research cluster areas;
Provide fieldwork support to project team, as required;
Provide research support to other research clusters as required.
Facilitate correspondence, coordination and reporting, as required, for the research cluster;
Facilitate overall logistics of any seminars, workshops and conferences organized by the research cluster.
Qualification
Currently enrolled in a Bachelor's Program at a reputable university, preferably majoring in Economics, Sociology, Social Sciences.
Experience
This is an entry-level position. 0-1 years of research experience
Skills and Abilities
Outstanding research, writing, and analytical skills. Ability to work independently and as part Of a team, demonstrating initiative and reliability. Strong interpersonal skills, organizational skills, and attention to detail required. Knowledge of STATA and Excel essential. Knowledge of library and online research resources with capacity to conduct independent research and fieldwork preferred.
To Apply:
Please send a one-page CV addressed to HR at admin@ideaspak.org
Fill out this form: https://goo.gl/forms/3TfdcvYbin7e4Jz53
The last date for applications is 15th June 2020