Karachi Board Matric Exam Improvement form 2023 Registration
Karachi Board News Date: 05 January 2023, Board of secondary Education Karachi has been announced Matric SSC Part 1 and Part 2 Registration schedule for Marks Improvement in 9th and 10th Class Session 2023-2024.
BSEK Press release announcement date 05 January 2023 About registration of Examination for Marks improvement purpose.
The students who are not satisfied from their Marks that they recently get from Annual Results of Karachi board can submit Improvement Form to appear in Examination.
Matric 9th and 10th Class Improvement, Registration and promotion form submission schedule has been announced. The Improvement Form can be get from Banks.
The Improvement Examination 2023 Registration Schedule for Matric Science, General Group, regular and private male and female students.
Karachi Board Chairman Matric Board Saeed Ashraf Ali Shah provide the notification for school owners and students that the date of Registration will be start from Date 05 January 2023 and the last date 02 February 2023 to submit Improvement Registration form without Late Fees is 02 February 2023.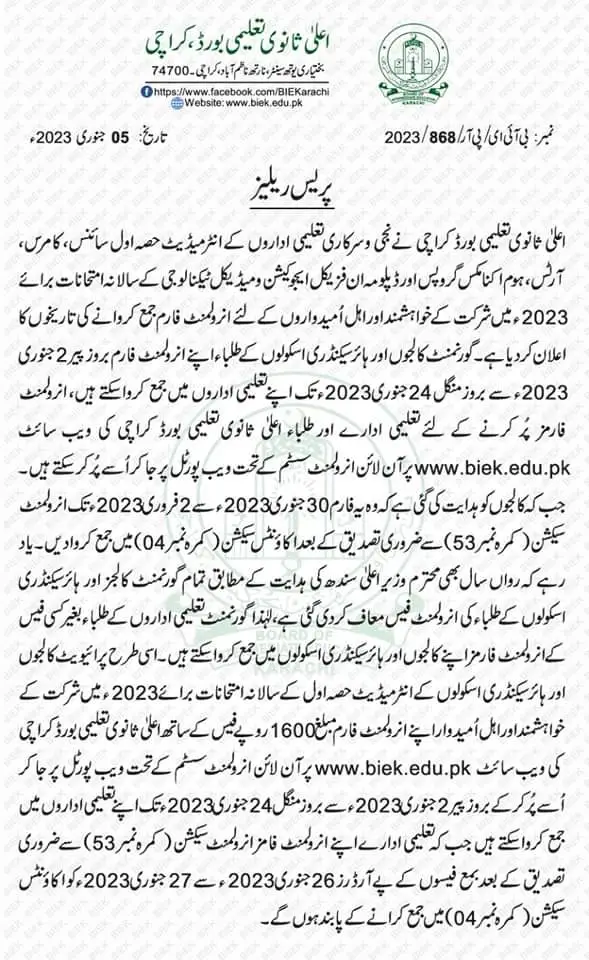 How to apply for Marks Improvement:
The Marks Improvement Form available in related banks and Karachi Board of Secondary Education. The students can fill the promotion or Marks improvement Form and submit to Karachi Board Room or Office No. 4 after verification from related section.
Marks Improvement Date Schedule:
Registration Start Date: 02 January 2023
Last Date to submit Registration Form: 27 January 2023 with Single Fees.
The registration and promotion form available in following Banks:
National Bank of Pakistan NBP
United Bank Limited UBL
Habib Bank Limited HBL
After filling the registration and promotion form can be submit to same above banks Board office.
The chairman of Matric Board Saeed Ashraf Ali Shah said that School owners can submit Marks improvement form with authority letter and pay order to the "Security board of Karachi" All Improvement, Registration and Promotion form must be verified before submit to registration office.
The registration, Improvement and promotion form also be accepted after due date with Late Fee Charges. The Registration forms also available on www.bsek.edu.pk.
Karachi Board Sher Shah Suri Road, Nazem-e-bad road, Karachi 75990.
11th Class Admission Guide 2023 Govt Of Sindh Colleges Karachi Board
BSEK Karachi Board SSC Part 2 Matric 10th Class Result 2023
Karachi University BA/B.com Private Registration 2023 Form fee Schedule
BSEK Karachi Board SSC Matric Class Date Sheet 2023 9th 10th Class