PAF Finishing School Islamabad starts admissions in the personality development program, including the following schemes and studies that are given below this advertisement. PAF Finishing School, Islamabad Admission is open for the autumn session, August to December 2023. The school works five days a week, Monday through Friday, from 8 a.m. to 2:30 p.m.
Classes start from August 21, 2023
for autumn session 2023 : August 2023 to December 2023
for Spring Session : February to June 2023
Email address: paffinishingschool@yahoo.com
Website of PAF Finishing School Islamabad: www.paffinishingschool.com
Phone numbers: 051-9263087, 9503803, 9503805
Career development skills
Self-growth
Art and Appreciation of Art
Home Management
Values
Educational Visits physical fitness
Survival course
ELIGIBILITY
Academic Requirement
Applicants should have completed 'A' levels or Intermediate.
Age
Girls ranging in age from 18 to a maximum of 45 years may apply.
English Language Proficiency
As English is the language of instruction, applicants must come up to the standards determined by the school.
CRITERIA FOR SELECTION
Applicant must pass a written entrance test based on General Knowledge and English.
They must also appear in an interview for their final selection. The Director of the Finishing School reserves the right to make the final selection or to take disciplinary action at any stage.
Classes will commence on August 21, 2023, and tests and interviews will be conducted daily from 9:00 a.m. to 1:00 p.m.
For future information and details, contact us at the address below.
Sector E-9 PAF complex, Islamabad.
Phone numbers: 051-9263087, 9503803, 9503805
HOSTEL FACILITY
The PAF Finishing School has an exclusive hostel facility.
Hostel charges are not included in the admission fees.
Students are to abide by the hostel's rules and regulations.
PAF Finishing School
(A Grooming Academy for Women)
Sector E-9, PAF Complex Islamabad
Pakistan
Phone Numbers Tel: 92-051 -9263087, 92-051-9503803
FEE STRUCTURE
Course Fee: Rs. 75,000/-
Hostel Charges – per month (if availed) : Rs. 12,000/-
Pick & Drop Facility : Charges according to distance
Prospectus: Rs. 800/-
For Foreign and out station students: Rs. 800/- along with postal / bank charges
The school offers a comprehensive range of guidance and learning opportunities related to both academic and the social needs. The scheme of studies is an integrated one, all subjects in all course are obligatory and none may be isolated.
SUBJECT ORGANIZATION IS
Art (History & Appreciation of Art and Related Arts)
Art of Self Presentation (Style, Beauty Care and Posture)
Communication and Management Skills
Computers
General Culture and Heritage
Nutrition and Health Care
Pakistani and International cuisine
Home Management and Administration
Introduction to Psychology
Languages (English and Urdu)
Spiritual Enrichment
Human and Legal Rights
EDUCATIONAL FIELD TRIPS
Art Galleries
Bank
Hotel/Restaurants
Museums
Place of Historical Importance
PTV Station
Well Designed Homes
Flight Line PAF Base, Nur Khan
National Assembly of Pakistan
Supreme Court of Pakistan
SPORTS
Cricket
Golf
Tennis
Various Games
SURVIVAL COURSE
A five days Survival Course on School premises.
WORKSHOPS CONDUCTED ON
Banking
Entrepreneurship
Landscaping
Painting /Fabric Painting
Arts & Crafts
Floral Art
Mass Communication
Self-Growth
Environment
ART
The PAF Finishing School gives paramount importance to the development of an individual's aesthetic sense through exposure to appreciation of art. History of art sessions serve to lay the basic foundation and related art emphasizes floral art, interior designing and crafts.
Subject specialists help to promote appreciation of:-
Poetry
Folk tradition
Arts
THE ART OF SELF PRESENTATION
The course is divided into three main categories: style, beauty-care, posture and gait.
In style students will learn how to discover their personal colour palettes and style, plan their wardrobes and related accessories. Beauty-care covers personal hygiene, make-up and hair-styling. Posture and gait encompasses correct attitudes and fitness.
COMMUNICATION AND MANAGEMENT SKILLS
Effective communication skills are now considered an essential part of success, be it in the context of a career or the home life. In today's world competence is judged by a person's ability to communicate in an attractive fashion and not just in writing and speech, but also dress and manners. Adopting a holistic approach at the Finishing School, we encourage the young ladies to master the basic skills of speaking and writing in a forceful, polite and effective manner.
Management skills are an essential requirement of the modern-day workplace and the home. Lessons focus on: time management, total quality management, decision-making, leadership skills and career counseling.
COMPUTER
The Computer Lab houses a number of personal computers, operating in the popular MS Windows environment. Software packages in use are:MS-Windows, MS-Office, Web Development and use of Internet etc.
It is expected that upon completion of the course, the student will not only be able to apply the software packages, but will also be introduced to popular concepts in the computer field.
GENERAL CULTURE AND HERITAGE
At the PAF Finishing School, students are encouraged to study the linkages between history, geography, culture, society and the arts. Experts assist our students to understand the relevance of what we are at this juncture in time and to project ourselves into the future to see what we would like to be.
General culture also embraces etiquette, manners and protocol and a major portion of this is integrated into the daily school routine.
ETIQUETTE, MANNERS AND PROTOCOL
The art of entertainment, precedence at the table and table-manners.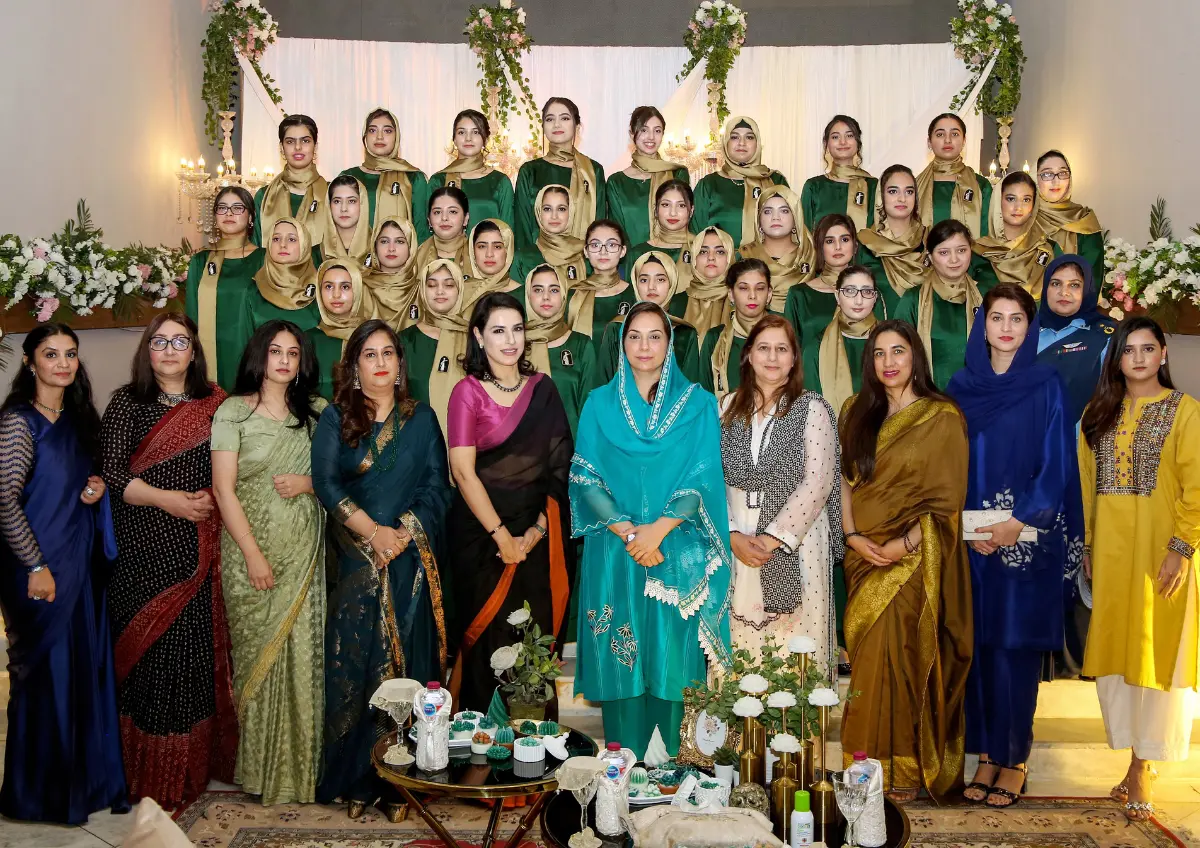 Ways of behaving and expressing oneself in a gathering, at functions, in hostels, restaurants, when traveling, etc.
NUTRITION AND HEALTH-CARE
Lectures are delivered on Meal Management and Hygiene and on specific conditions (pregnancy, obesity).
Pakistan AND INTERNATIONAL CUISINE
Pakistani, Chinese, Italian, Continental and Oriental dishes are taught with special emphasis on garnishing and presentation.
SERVICE TABLE AND IN THE KITCHEN
History and traditions in serving food, setting and decoration of tables distribution and co-ordination of work and table service.
HOME MANAGEMENT AND ADMINISTRATION
Planning and equipping a house; organizing a household efficiently, upkeep and maintenance of household appliances and utensils, family budget , management of recourses, security measures and first aid.
INTRODUCTION TO PSYCHOLOGY
Human development, marriage counseling, parenting, child care, stress management, self growth and emotional intelligence.
ENGLISH LANGUAGE SKILLS
In this class the students learn the art of speaking and they do this in a variety of ways: they role play, create scripts, play simulation games, narrate stories in interesting ways and a host of things that the best of the language books suggest for the speaking skills.
Writing skills cover correspondence, titles and forms of address, invitations, visiting cards, and curriculum vitae.
VISITING FACULTY
The school also utilizes the services of eminent scholars, top-notch experts, presenters, and experienced personalities drawn from the private sector as well as the corporate sector from all over Pakistan.
SPIRITUAL ENRICHMENT
The school recognizes the need to study the Islamic tradition, particularly the Quran, in an academic milieu and move away from a narrow and narrowing interpretation of it in daily life. The course provides opportunities for frank and enlightened discussion of key passages, aided by the best scholars available.
PAF Finishing School for women Pictures at Kalabagh Air Base