Sindh Public Service Commission announces to conduct the Combined Competitive Examination (CCE)-2023 on Tuesday November, 2023 (tentatively) for selection of candidates for the following posts:
Please Click here to download Online Letters of Screening Test Of Combined Competitive Examination CCE 2023 to be held in the month of November 2023: Download Here
ASSISTANT COMMISSIONER (BPS-17), 82 POSTS (49 RURAL and 33 URBAN)
SECTION OFFICER (BPS-17) 123 POSTS (74 RURAL and 49 URBAN).
EXCISE & TAXATION OFFICER (BPS-17), 15 POSTS (10 RURAL and 05 URBAN)
ASSISTANT REGISTRAR COOPERATIVE SOCIETIES (BPS-17), 09 POSTS (05 Rural and 04 Urban)
DISTRICT FOOD CONTROLLER/STORAGE & ENFORCEMENT OFFICER (BPS-16) 03 POSTS (03 RURAL)
ADDITIONAL DISTRICT FOOD CONTROLLER (BPS-16), 15 POSTS (09 RURAL AND 06 URBAN)
Closing date for submission of online application
NOTE: (I).The number of posts is subject to change as per the requirement of the Government of Sindh.
(II).The recommendation in respect of the above posts will be made on merit and on Rural / Urban Quota basis according to the prevalent rules.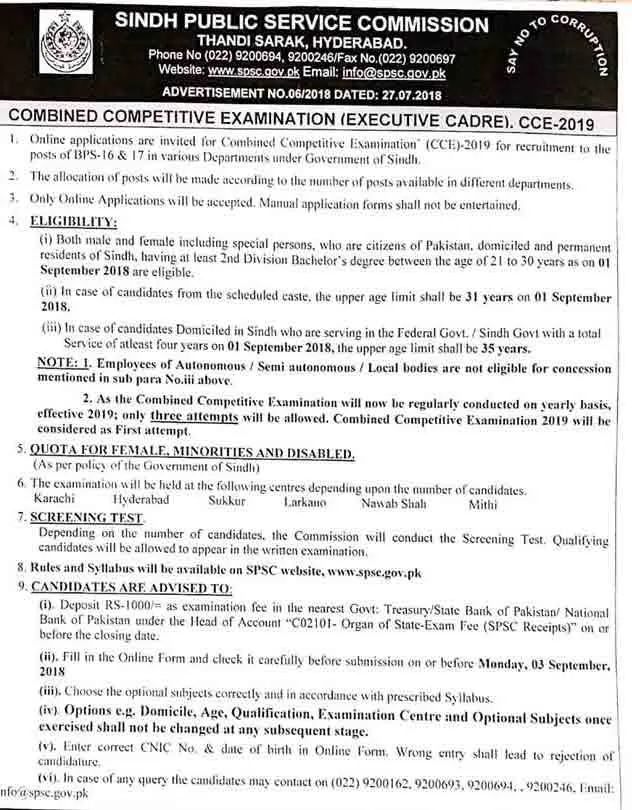 The examination will be held at the following centres depending upon the number of candidates.
KARACHI
HYDERABAD
SUKKUR
LARKANO
Eligibility
Both male and female including special persons, who are citizens of Pakistan, domiciled and permanent residents of Sindh, having at least 2nd Division Bachelor's degree between the ages of 21 to 30 years as on 01 September 2023 are eligible.
(II) In case of candidates from the scheduled caste, the upper age limit shall be 31 years on 01 September 2023.
(III) In case of candidates Domiciled in Sindh who are serving in the Federal Govt. / Sindh Government with a total service of at least four years on 01 September 2023, the upper age limit shall be 35 years.