University of Gujrat Offer MS/MPHIL and PhD Admissions 2021. The University of Gujrat is one of the new major public sector universities in Punjab. The university was established under Act IX of 2004 by Government of Punjab, Pakistan.
Offering the following programs:
Morning Full time:
Biochemistry and molecular biology
English (linguistics)
English (literature)
Mathematics
Multimedia and digital Arts
Physics
Psychology
sociology
Statistics
Zoology
international relation
Botany
economics
education
fine arts
Mass communication (Professional track)
Mass communication (Research track)
Islamic studies
2.    Evening Time
Chemical engineering
Electrical engineering
Management sciences
3.    Weekend Program:
Computer science
History
Pakistan studies
education
information technology
politicians sciences
Admission requirements:
MS/Mphil candidates shall possess at least sixteen years of of education (MA/MSC/BS 4 year program or equivalent degree in the relevant subjects.
The candidates have at least 45 percent marks in annual examination system.
Gat test is required with at least 50 % marks in it
Candidates have to pass the department subject base written test and interview.
Activity calendar:
date of the availability of application form is
Last date of submission of the form is
Department test is held on
Interview of the short listed candidates is
Final merit list is displayed on
Last date of submission of fees is
Second merit list if required
Last date of submission of fees is
Note: Interview and final merit list shall be posted on the department concerned notice board.
No letter is issued to the individual candidates for interview and admission.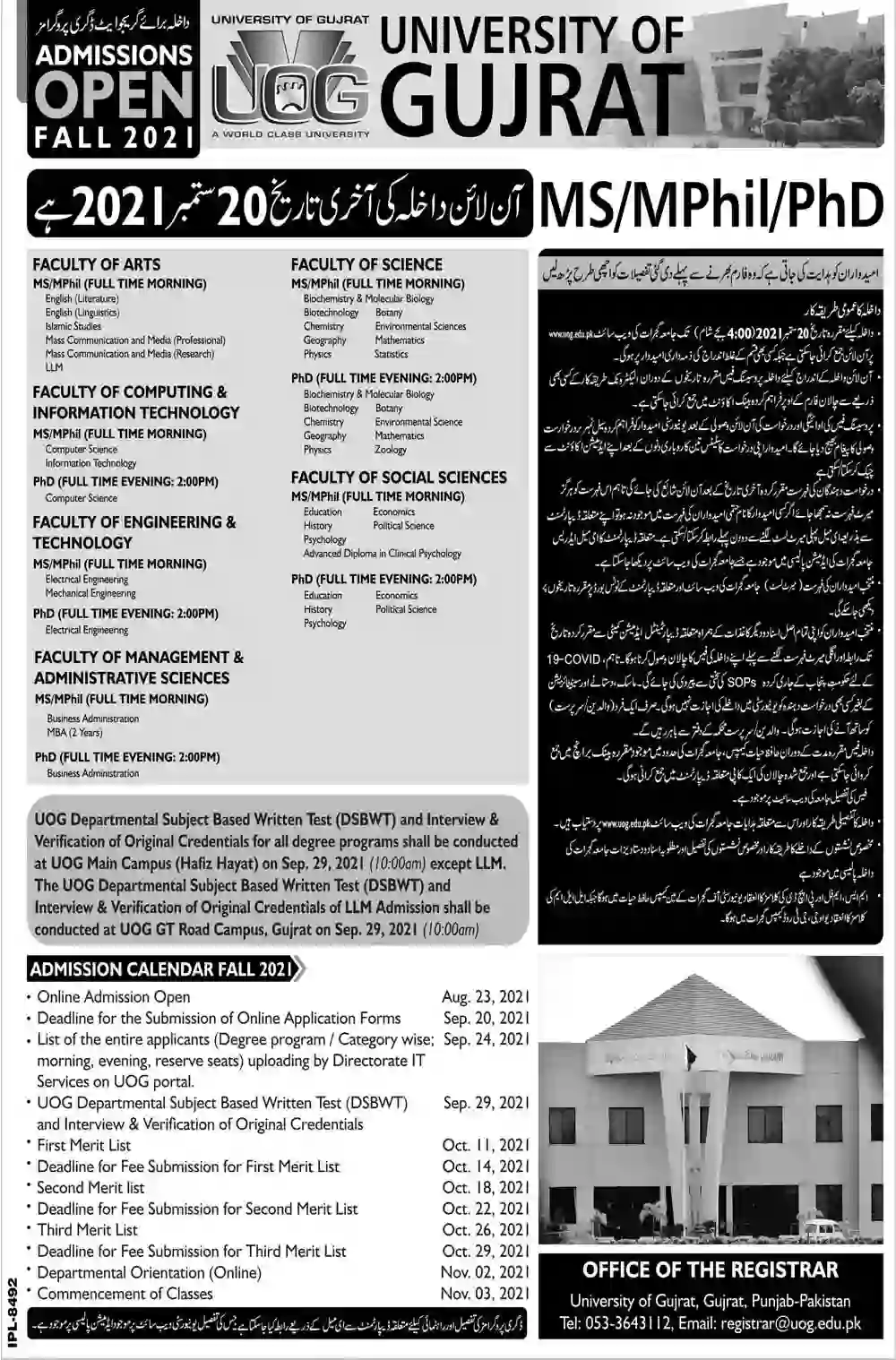 For contact:
Registrar
Hafiz Hayat campus Jalapur Jattan Road, Gujrat.
Phone# +92(53) 3643171 , 3643121
Fax# +92(53) 3643067
www.uog.edu.pk
UOG Admission Schedule 2021-2022
Admission start Date 23 August 2021
Online Admission Open: 23 August 2021
Deadline for the Submission on online application forms: 20 September 2021
Deadline for the submission of hard copy of original application form: 24 September 2021
Departmental Test / Interviews: 29 September 2021
Medical Examination for the reserved seats:
Trails for reserve seats sports:
Trails for reserve seats co-curricular:
First Merit List for all programs: 11 October 2021
Deadline for Fee Submission for First Merit List: 14 October 2021
Second Merit List for all degree programs: 18 October 2021
Deadline for fee submission for second merit list: 22 October 2021
Third Merit List for all degree programs: 26 October 2021
Deadline for submission of third merit list fees: 29 October 2021
Departmental Orientation Online: 02 November 2021
Commencement of classes for all degree Programs: 03 November 2021
University of Gujrat UOG Merit List 2021