Islamabad Police force Scholarship for the Children of Employees & Martyrs
Wonderful step by the head of Islamabad Police for the current employees and martyrs of Islamabad Police children's providing them free education.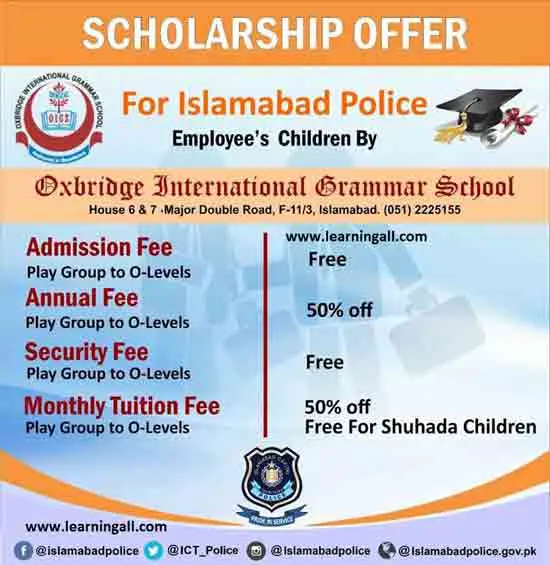 It's a first time that Islamabad Police officials offer scholarship scheme to general employee's children's through Oxbridge International grammar school Islamabad.
This welfare step will be highly appreciated for employees of Islamabad police from BPS and low salary persons.
Oxbridge International Summer School
House no. 6 and 7, Major double road F-11/3 Islamabad, phone number: 051-2225155
Schedule of Scholarship and fees of admission:
Admission fee play group to O level: Free
Annual Fee play group to O Levels: 50% off
Security Fee Play group to O level: free
Monthly Tuition Fee Play group to O level: 50 percent off for current employee and 100% off for shuhada children.
How to apply:
The interested and eligible candidates can submit scholarship application form to direct Oxbridge international school Islamabad with all related previous Islamabad Police documents.