Rahnuma family planning Association of Pakistan FPAP offering Internship opportunity for Graduate youth of Balochistan. The internship Program classes will be held saiban hospital block 4 satellite town Quetta. Rahnuma is seeking motivated internee for its project Get up speak out. Fresh graduates are required, within seven days of this advertisement; all interested candidates may submit their CV along with application forms at following email address:
 Khalid.zdsp@gmail.com
Address rahnuma family planning association of Pakistan saiban hospital block # 4 satellite town Quetta Phone Number: 0812442844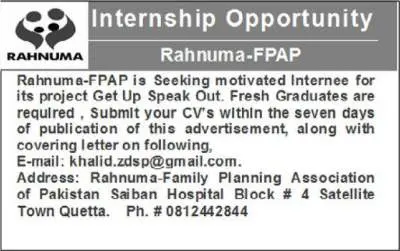 Rahnuma, the Family Planning Association of Pakistan, a member of the International Planned Parenthood Federation is the country's leading citizen-sector organization that works to promote Reproductive Health as a basic human right by providing sustainable and high-quality SH&RH services to all including men, women and youth in partnership with government, NGOs and other civil society organizations.
Rahnuma-FPAP is seeking highly motivated professionals.