Trust for Democratic Education and Accountability TDEA under its WACTION project is soliciting applications for the position of training officer.
Interested candidates should submit application online e visiting tdea.pk/career.
How to apply Online: Click Here
The last date for submitting application is July 12, 2018
JOB RESPONSIBILITIES:
Coordinate with the Project Manager in developing Training Plan(s) for TDEA-FAFEN's partner organization, women workers groups and beneficiaries as detailed in project documentation, including:
Identifying key training requirements of the target groups including the project staff and women workers groups to develop customize training plan and curriculum;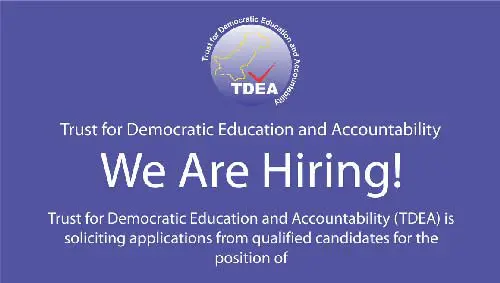 Identifying the main target groups for training and assess the requirements on course timing, time limitation of participants and other factors.
Periodically monitor and assess the partner's and women workers' group's training needs with respect to better implementation and outputs of project activities.
Keeping proper documentation of all the required pre and post training related information of the participants and assessments, Provide day-to-day technical assistance and support to TDEA-FAFEN's partners in all capacity building activities. Assist the Project Manager in conducting periodic performance monitoring including reassessments of implementing partners to ensure quality is maintained and project related milestones are met.
Title       Training Officer
Categories          Jobs
Salary    PKR 50,000-84,000
Location               Islamabad
Position:                                            Training Officer
No. of Positions:                                1
Expected Date of Joining:                July 25, 2018
Duration of Contact:                         4 Months
Location:                                            Islamabad
Project:                                              Women Action for Better Workplaces
Required Qualifications and Experience
Education:    
Preferably Masters' degree in relevant field
EXPERIENCE:  
A MINIMUM OF THREE YEARS OF EXPERIENCE IN RELEVANT FIELD
Competencies and Skills:
Ability to work under pressure
Well versed with MS Office, especially in Excel and Word
Speaks and writes (Urdu and English languages) clearly and effectively
Works collaboratively with colleagues to achieve project/ organizational goals
Multicultural exposure
Ability to work as team member
Ability to work efficiently & effectively
Travel Requirement, Location and Timing:
It is a full time job and the position is located at Islamabad but may involve contingent travelling along the lines of accomplishment of aforementioned responsibilities. The job shall likewise involve late sittings and working on weekends/holidays where required by the circumstances.
TDEA is an equal opportunity employer –women, minorities, physically disabled/wheel chair users, the blind/visually impaired, speech and hearing impaired and/or persons with any other disabilities who otherwise qualify for the position are encouraged to apply.  TDEA provides accessible work environment to its disabled employees through reasonable accommodations without compromising on the quality of work.
Only shortlisted candidates will be called for Interviews. Any attempt to influence the hiring process will lead to immediate disqualification of the candidate.