Government College Peshawar invites Admission applications for BS Semester System Four Years program session 2023-2024. The admission form and prospectus available at college admission office during office timing with the payment of Rs 100 so avail admission form and submit admission application form with related documents before last date.
1st Year 2nd Merit List For 1st Shift.
1. Pre-Medical. Local-1006 Non Local-1047 Disable- 968 College emp. 914
2. Pre-Engineering. Local- Non Local-
3. C/Science. Local- Non Local- Disable 859 College employee 934
4. Arts. Local-729 Non Local-850 Disable 698
1st Year 1st Merit List Govt. College Peshawar
For 1st Shift.
1. Pre-Medical.
Local-1019
Non Local-1054
2. Pre-Engineering.
Local-952
Non Local-1019
3. C/Science.
Local-972
Non Local-1005
4. Arts.
Local-767
Non Local-893
BS Program Discipline:
Urdu
Islamiyat
Economics
English
Botany
Mathematics
Zoology
Geographically
Statistics
Physics
Computer Science
Chemistry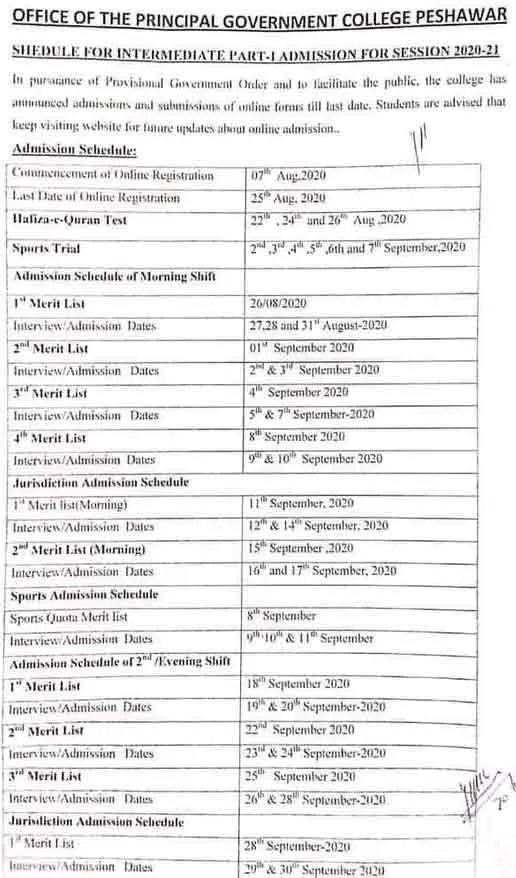 Eligibility Criteria:
The students having Intermediate pass degree (FA, FSC, ICS) with minimum 45 percent marks, the Peshawar University policy will be implement.
Kindly bring following documents with application form.
Original Migration Certificate
Inter Mark sheet / degree certificate
Passport size photographs (3)
Domicile certificate copy
All documents must be attested and for different program, submit separate admission application form.
Admission Date Schedule:
Admission application can be submit from today
Last Date to submit Admission application form: 31 August 2023
Supports Trail / Hafiz-e-Quran Test: 2 and 3 September 2023
Merit List or Selection List:
First Merit List: 04 September 2023
Interview for Selected Candidates will be held on date 5 and 6 September 2023
Second Merit List: 07 September 2023
Interview for second Merit List candidates: 09 and 10 September 2023
Third Merit List: 11 September 2023
Final Interview for selected candidates will be held on date: 12 and 13 September 2023
College Principal Contact number: 091-9211283
Govt College of Technology Peshawar Admission 2023 DAE Courses
KPK students can take admission in other colleges through official Online college admission system higher education, archives and libraries department government of Khyber pakhtunkwa admission.hed.gkp.pk
Please select appropriate options in following fields to search a merit list. Fields with * are mandatory and without * are optional.
Select district, college/institute and admission session to get merit lists.
IMPORTANT: If you can not find the merit list you are searching for, please also visit the college homepage to check if they have uploaded it offline. "Click Here" to see a list of colleges, then click on the desired college name. Once on college homepage, you will find a list of offline merit lists at bottom of the page.
https://admission.hed.gkp.pk/merit_list.php