How to apply for Prime Minister Loan Scheme 2023
Prime minister of Pakistan Shahbaz Sharif Announced the Business Loan scheme and Agriculture Loan Scheme for Pakistani Needy Youth.
Prime Minister Youth Loan Scheme Announced by PM Shahbaz Sharif. MS Shaza Fatima Khawaja SAPM on Youth affairs PM Youth Loan Scheme will now provide interest free Loans in Tier 1.
PM Shahbaz Sharif advise Students and Youth of Pakistan to apply Online for PM Youth Scheme to get Business Loans easily.
List of Bank and Organisations for providing Tier 1 loans:
Bank of Punjab
Akhuwat Islamic Microfinance
NRSP
National Bank of Pakistan
NRSP U Microfinance Bank
Askari Bank
Akhuwat Islamic Microfinance
Habib Bank Limited
Thardeep Microfinance Foundation Damen Support Program
Meezan Bank
Akhuwat Islamic Microfinance
PM Youth Business and Agriculture Loan Scheme:
The applications are open on pmyp.gov.pk and the Youth of Pakistan and AJK can apply online by selecting Tier 1 Option during online application.
Eligibility Criteria:
Any Pakistani Including Azad Juma and Kashmir and Giltat Baltistan National having Valid CNIC (National ID Card) or Form B with age limit 18 to 45 Years old can submit business or Agriculture loan scheme application form online.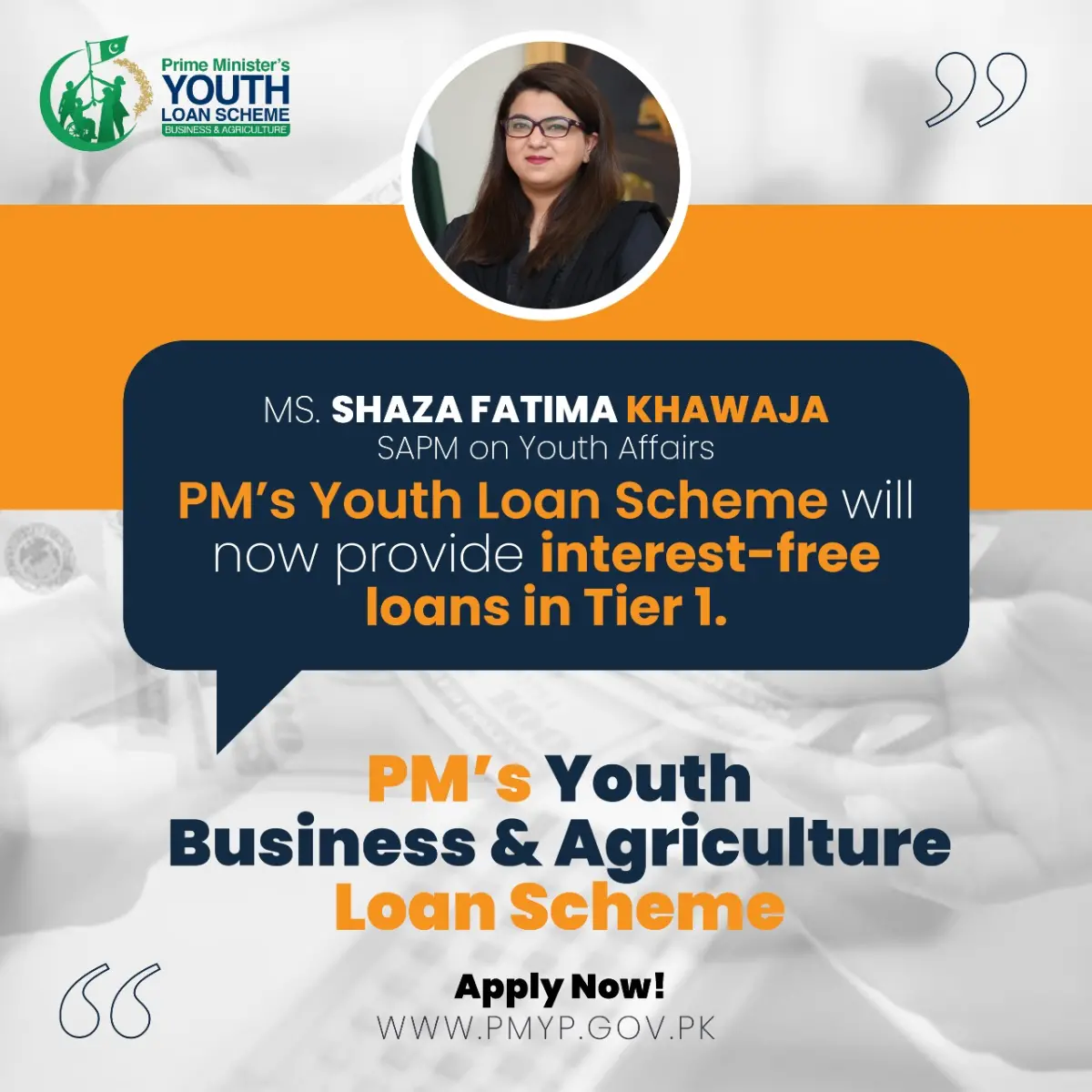 PM Kamyab Jawan Program 2023 Application Form Youth Loan Scheme
How to Apply:
As per above eligible candidates Youth students can apply for Prime Minister Youth Loan Scheme.
Go to pmyp.gov.pk
Apply for Loan PM Youth & Agriculture Loan scheme.
Please note that the fields with (*) are mandatory and need to be filled. Click on the small arrow at the right side of each field and select appropriate answer from the drop-down menu.
write CNIC Number and CNIC issue date and select tier one and enter it.
The full Details how to apply go to user manual English and Urdu.
Read Also: CM Punjab Apna Rozgar Scheme 2023 Download Application form
Dear Applicant, Muhammad Saqlain Amjid! Your loan application has been received, but not verified from NADRA and will not proceed further until you edit it from PMYB and ALS form or send your DOB, CNIC issue date or CNIC Picture to complaints at Citizen Portal App.