NDRMF Internship Program (FY-2023-24)
National Disaster Risk Management Fund (NDRMF) is a government-owned not-for-profit company, established under Section 42 of the Companies Act 2017. It provides grant financing for projects that contribute to enhancing Pakistan's resilience to climatic and other natural hazards and to strengthen the government's ability to quickly respond to disasters triggered by natural hazards.
NDRMF offering apprentice to young/energetic students engaged in, at minimum, their Bachelors studies, to meet their degree requirements or to gain practical experience, from a reputable local/foreign Institutes/Universities duly recognized by the Higher Education Commission (HEC) as Interns for maximum period of 03 months.
Read Also: PM Internship Program 2023
Application procedure
 Interested applicants may apply by filling out an "Internship Request Form" available at procedure: the "Career Section" of NDRMF's website https://www.ndrmf.pk (ii) NDRMF will keep a record of the internship applications received throughout the year and place the applicants in suitable disciplines as per need basis subject to clearing all codal formalities.
OGDCL Paid Internship Program 2023
How to Apply
To apply for internship, the Minimum Age is eighteen (18) years and Maximum Age is conditions Twenty-Eight (28) years.
A monthly stipend may also be admissible to interns up-to Rs. 30,000/-(iii) Only shortlisted candidates will be contacted for further evaluation and interview.
NDRMF has the right to defer or cancel the recruitment process of any position(s), at any stage, without assigning any reason.
NDRMF is an equal opportunity employer and encourages applications from qualified individuals regardless of gender, age, disability status or location in the country. PID(I)758/23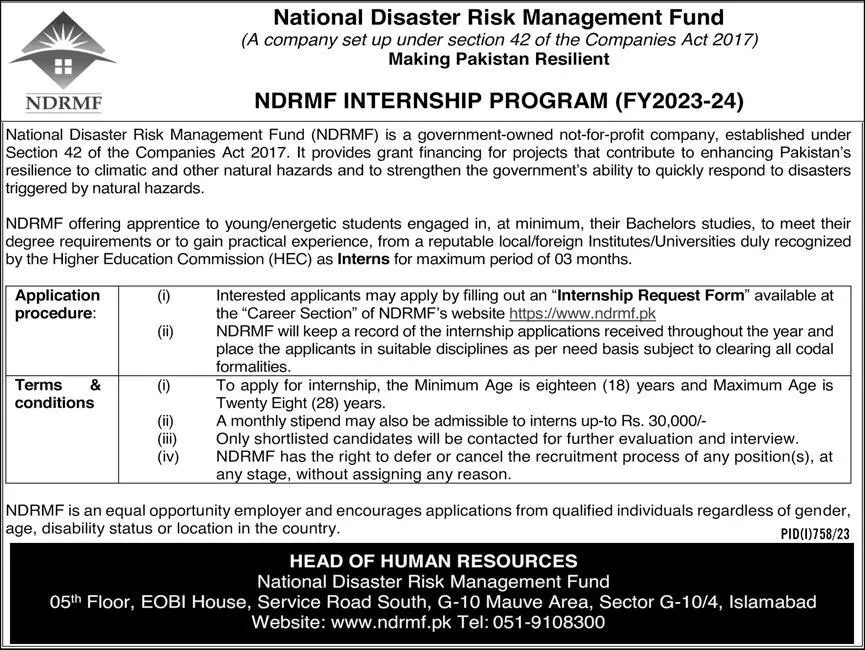 How to Contact National disaster and risk management fund
HEAD OF HUMAN RESOURCES National Disaster Risk Management Fund 051h Floor, EOBI House, Service Road South, G-10 Mauve Area, Sector 0-10/4, Islamabad Website: www.ndrmf.pk Tel: 051-9108300