Scholastic Islamiah School Lahore Admissions open in preschool excellent programs. Scholastic Islamiah School have two campus in Gulberg 3 Lahore one for boys and one for girls.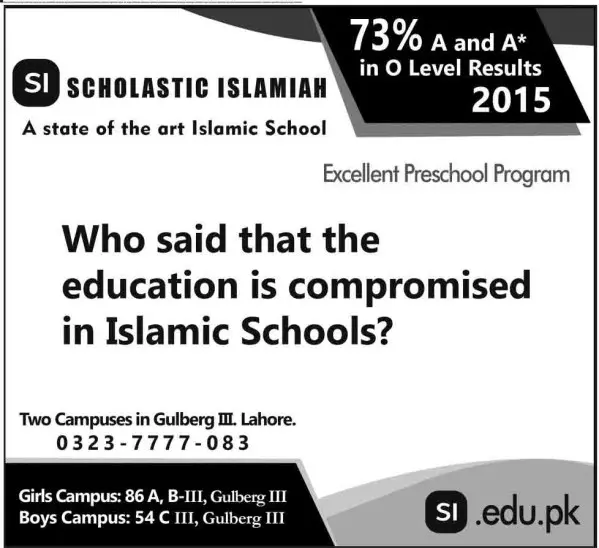 Registration & Admission
The admission procedure begins with registration. Registration will start from the 28th of May. The registration form can be obtained from the School Office (See Contact Us for contact information). This form should be completed by the Parent or Guardian and submitted to the School Office as soon as possible.
Age for Admission
A student is expected to have attained the age given in the following table, by September 1 of the year that they enter the class.
Elementary                                 Age                               Middle  Age                        High       Age
Pre-Nursery                                3                    Grade 4                9                             9th O-Levels       14
Nursery                                        4                    Grade 5                10                          10th O-Levels    15
Kindergarten                              5                    Grade 6                11                          O-Levels              16
Grade 1                                         6                    Grade 7                12                          A-1         17
Grade 2                                         7                    Grade 8                13                          A-Levels               18
Grade 3                                         8
Admission Test/Interview Timing
Date for the Admission tests and interviews will be confirmed by the School Office on acquisition of the Registration form. Successful candidates will be required to join the school in the following August or September. Parents of successful candidates will be asked to call at the School Office to collect the first Fee Challan Form immediately after confirmation of Admission.
School Fee
School Fee, and other charges shall be paid every three months in advance, through a local bank. This fee is payable for all twelve calendar months. The school has the discretion to review and increase the school fee and all other fees, charges and deposits.
The first Fee Challan Form will include charges for admission fee, three months' tuition fees and any other incidental charges. Methods of payment will be explained by the School Office. When this procedure is complete the child's name will be entered on the Admission Register and the child may join his/her class.
Limited financial aid is available for needy students that excel in academic or islamic values. We are not able to give sufficient aid to cover all the needy cases. Please contact the Principal, if you would like to contribute to the Financial Assistance Fund so that we can increase the amount of aid we provide to qualified but needy students.
official website www.si.edu.pk