Federal board of intermediate and secondary education FBISE announced new paper pattern or Model papers of SSC Part 1 and 2, 9th and 10 class. The New Syllabus and Model Papers is necessary for all students who want to done their matriculation examination from FBISE, because these papers will help you to take good marks and make your study easy and after studying these model papers you can focused your study and prepare yourself related Question and Answer papers from your selected Syllabus for successful and gets good grade from Matric 10 class Annual Exams session 2023-2024.
FBISE Matric 10th Class Syllabus 2023:
These Model papers or New paper pattern will actually help the students, that how can they study and which questions are necessary to prepare for taking good marks in matriculation exams that will take by officials of FBISE in all over the world Pakistan and other different countries where Pakistan Embassy available and in that place Federal board schools available for Pakistani families to study in Pakistani official government board Federal board of intermediate and secondary education Islamabad. you can also check scheme of studies of 9th and 10th class from the end of this list.
Scheme of Studies for SSC Class 9th and 10th Session 2023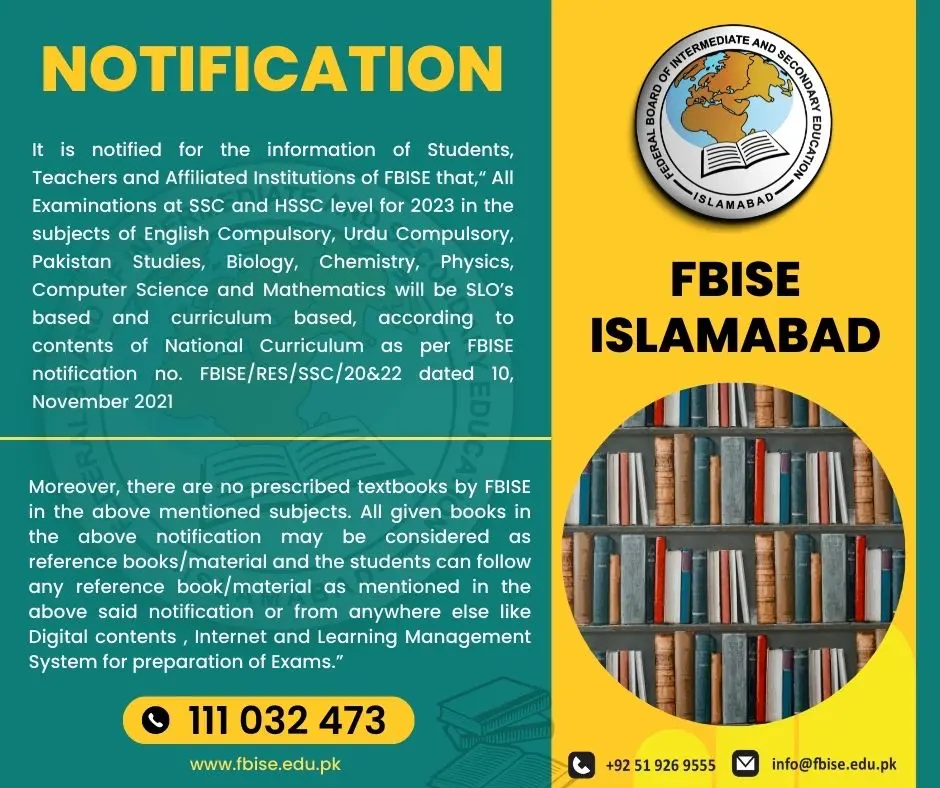 The selected Paper pattern and Syllabus 2023 of all Matric Subjects available Below:
The Model paper and Paper Pattern of these subjects are given above. Arabic, Art and Model Drawing (Model Paper), Art and Model Drawing (Syllabus), Art and Model Drawing (Practical), Biology, Chemistry, Civics, Clothing and Textile, Commercial Geography, Computer Science, Economics, Education, Elements of Home Economics, English (Compulsory), English Literature, Ethics (Syllabus), Ethics (Model Paper), Food and Nutrition, General Science, Geography of Pakistan, Health and Physical Education, Islamiyat (Compulsory) Syllabus , Islamiyat (Compulsory) Model Paper, Islamic History, Islamic Studies, Mathematics General, Mathematics, Pakistan Studies (Syllabus) , Pakistan Studies (Model Paper), Pakistan Studies (Composite Old Syllabus), Physics, Urdu Compulsory (Syllabus), Urdu Compulsory (Notification), Salees Urdu and Scheme of Studies.
these are model papers for year 2023 but these are valid for year session 2023-2024.