National Bank Student Loan Scheme 2023 NBP Application Form
National Bank of Pakistan offering student loan scheme for students. University or college students who are studying in Bachelor or master degree and cannot afford the education expenses can submit NBP Loan Application form before 29 July 2023.
NBP Student Loan scheme is only for education purpose. The loan will be provided to students on merit basis. National bank of Pakistan inviting loan applications from students for the grant of free mark-up, interest free loan for pursuing graduation, post-graduation, M.Phil, and PhD degree programs.
The students who want to study in any Pakistani public sector institute are eligible to apply. The students who have secured at least 70 percent mark in their last public examination and meet eligibility criteria of the scheme and financially weak to complete their studies may submit their applications on the prescribed form supported by required documents in duplicate submit to office during office hours.
Read Also: PM Imran Khan Ehsas Kafalat Program 2023 Registration Form
The State Bank and the Government of Pakistan have launched a ten-year student loan scheme for students of public sector universities and colleges.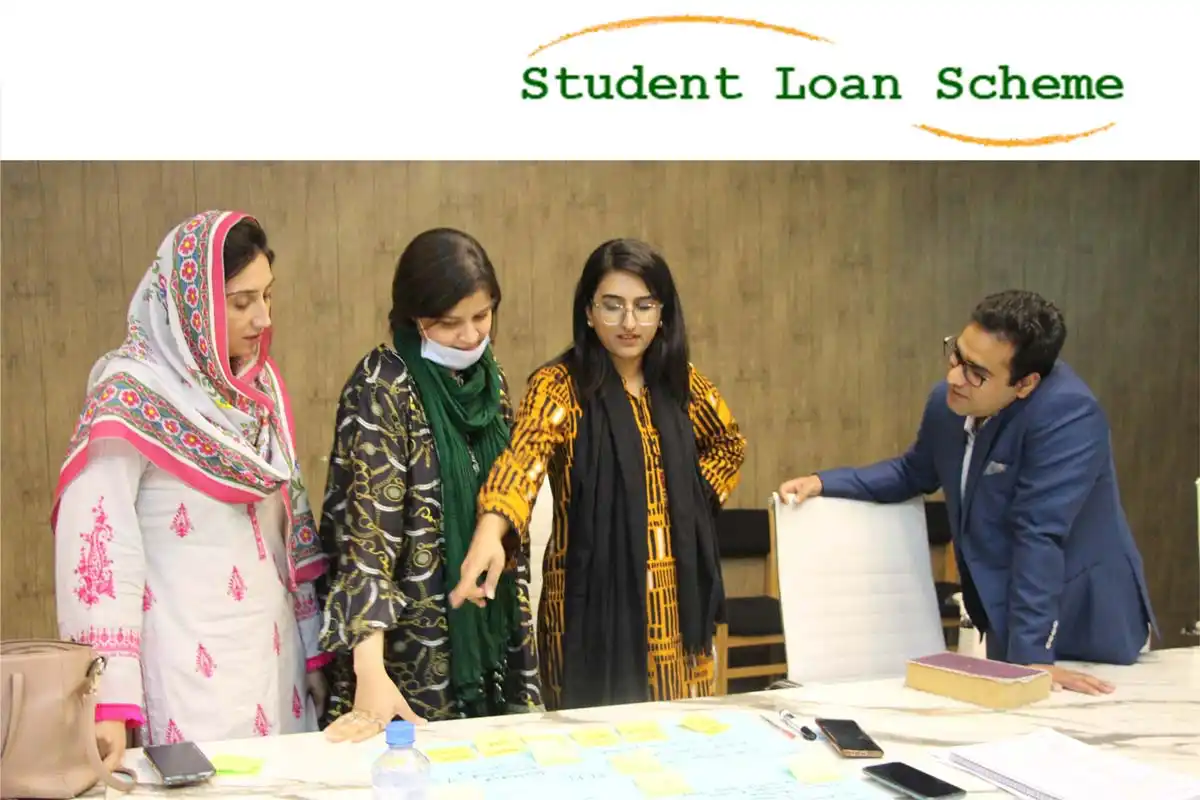 The student loan includes tuition fees, hostel and book expenses. Students will now get rid of the part-time job they had to pay for their studies. And repay the loan in easy ten-year instalments.
National Bank of Pakistan Offering Student Loan for education year 2020-2021-2022. The student who got 70 percent marks in graduation, Post Graduate, M.Phil. and PhD students. The last date to submit loan application is 29 July 2023.
Students can contact to NBP:
Phone number for Student Loan: 021-99220100-50 and 021-99220026 and extension 2637 and 2170.
Students can download loan application form from www.nbp.com.pk/studentloan.
All the details of this scheme including application form, list of eligible universities is available at the following link https://www.nbp.com.pk/studentloan/
ELIGIBILITY
Under the scheme the students are eligible to apply for loans provided:
He/she has obtained admission on merit through normal course/procedure in
the approved Universities/Colleges of the public sector (List Attached)
mentioned hereunder.
He/she falls at the time of admission within the age bracket of For Graduation Not exceeding 21 Years
For Post-Graduation Not exceeding 31 Years
For Ph.D. Not exceeding 36 Years
He/she has secured 70% marks in the last public examination.
He/she has undertaken the study of the subjects given below.
He/she is unable to pursue studies due to financial constraints
For further clarification and guidance, applicant(s) may contact Mr. Muhammad Tahir Hafeez, VP / Wing Head, Students Loan Wing, National Bank of Pakistan, Head Office, Karachi.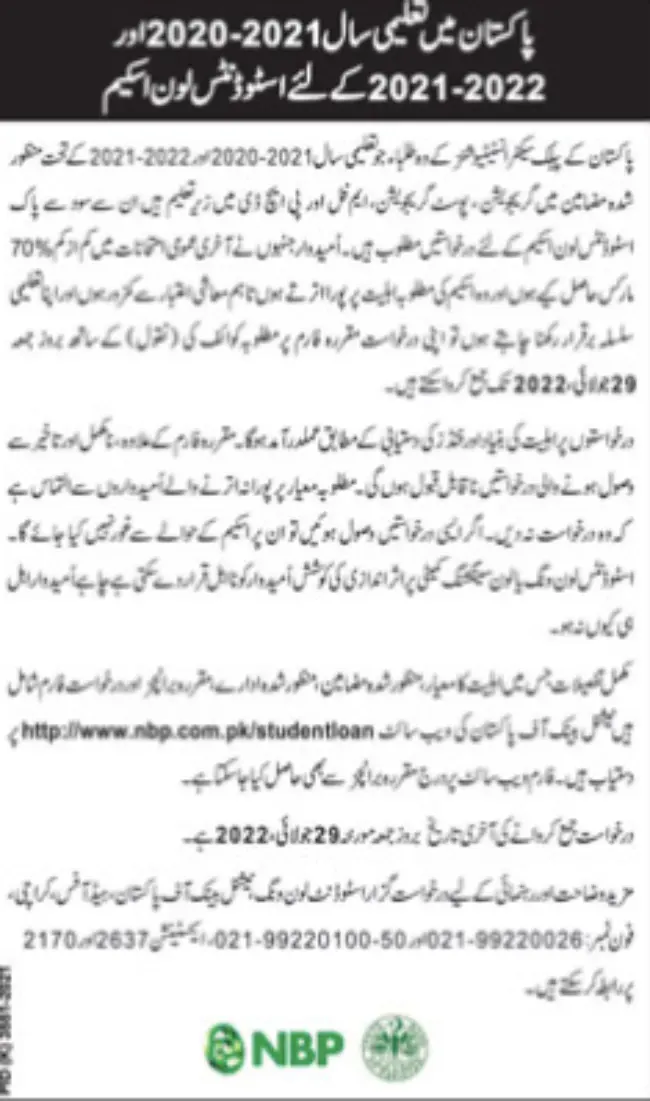 Telephone No. 021-99220026, and 021-9922100- Ext.2637 Fax No. 021-99220421.
Download NBP Student Loan Application Form: Download Here