Alfalah Scholarship Scheme
Alfalah organization starts taking scholarship applications from needy and deserving Pakistani students. Talented and needy students can submit a scholarship application form.
The Alfalah organization is providing educational activities for students who cannot afford to study in Pakistan. Alfalah will bear all expenses for selected students under the Alfalah Scholarship Scheme in 2023.
Eligibility Criteria:
Minimum 70% marks from Matric and 60% marks from Intermediate or DAE for Muslims
60% marks from Matric and 55% marks from Inter or DAE for minority students.
All Pakistani students are eligible to apply. Students of various levels, from intermediate to master or professional, from all the provinces of Pakistan, including Gilgit and Baltistan, can apply for a scholarship.
The last date for submission of Scholarship application form: is October 31, 2023
The Alfalah Organization is taking a list of poor students, and after that, sponsors from different countries provide the finance to fulfill the expenses of selected students from different colleges and universities.
Monthly scholarships are offered to deservingly talented students in intermediate to DAE, graduation, post-graduation, and professional courses in any field within Pakistan.
Al Khidmat Foundation Scholarship 2023 for Baloch Students
Download Scholarship Application Forms:
Application-Form
Bonafide Certificate (Specimen)
Iqrar Nama (1)_for Inter, BA, BSc, B.Com
Iqrar Nama (2)_for Medical, Engineering, BS(H), Master, MS, LLB, DAE
Scholarship Continuation Form
Alfalah Scholarship Program Admission Test for Scholarships
| | |
| --- | --- |
| To Download the advertisement: | 01 August 2023 |
| To Download the application form: | 01 August 2023 |
| Last Date For Application Submission: | 31 October 2023 |
| Test Date: | |
Khwaja Fareed University of Engineering & Information Technology today announced the scholarship scheme for the Alfalah Scholarship Program session 2023.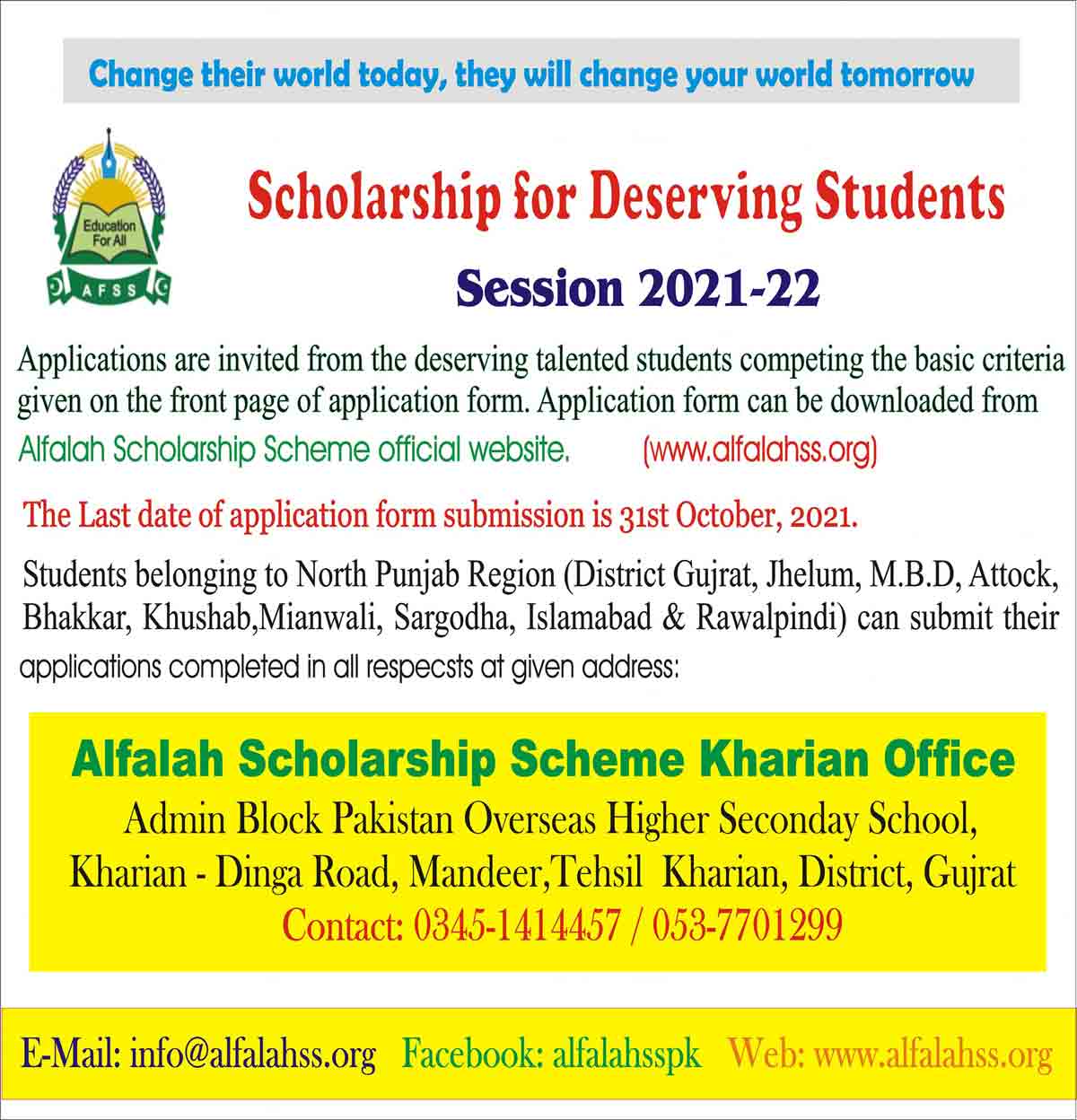 KUIT inform the students of BS and Masters Students of KFUEIT Rahim Yar Khan that now can apply for Alfalah Scholarship.
Alfalah scholarship is a Qarz e Hasna which is given to deserving students on monthly basis until completion of their studies.
The amount of scholarship is varied from Rs. 4000/- to Rs. 6000/- according to degree and educational level.
Granted scholarship recipients are monthly expected to pay it back in sponsoring a needy student like her / him when they are employed after completion of their education or at least pay back the actual scholarship amount in easy installment on monthly basis.
Read Also: Koshish Foundation Scholarships 2023 Master Level
How to apply:
Download scholarship application form from above, or from www.alfalahss.org or you can also avail from your university.
Applicants are required to fill their application on the prescribed form, duly completed in all respect along with required to fill their applications on the prescribed form, duly completed in all respect along with required Iqrar nama and bonafide certificate using the specimen provided on alfalah website.
Complete scholarship application in all respect should be forwarded to their concerned regions before.